We are so happy to have heard from Joseph Nieto this past weekend! Joseph is attending the Virginia Military Institute and we could not be more excited for his future endeavors!
Check out this brief email update we received from him to see how he is doing!
Mrs. Helayne,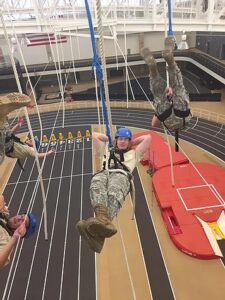 I'm getting through it day by day. So much has happened in the past two weeks it would require a novel to explain everything. In short, I traversed high mountains, swam a frigid river, precariously applied a bayonet to the end of the same M-14 rifle that I disassembled and reassembled, trimmed a few hairs from my head and I hung upside down 60 feet from the ground (see attached)!
The first 9 days were the worst (duly dubbed "Hell week") for the 18 hour days that we had in the care of our cadre. Our cadre, who were upperclassmen, taught us all the basic ways of military life: how to walk, how to talk, how to dress, how to organize and how to do exercise. They are still teaching us things as well. Despite all the theories from my brother rats I think they really mean well even when they yell viciously or throw tantrums when somebody incorrectly addresses them. I for one am in the school of thought that they all simply have tinnitus and need to scream to hear themselves.
Today we attended a milestone in the life of a VMI rat: New Market Day. We traced the steps of the great civil war battle at that named town in which 250 VMI cadets fought and 10 died. It was an existential feeling, really, that I'm a part of something this proud. It makes it a bit easier to have reverence in this accomplishment.
I must cut this message short, though, for I am about to leave post for a few hours. I find that my schedule does not allow for much free time so this is a welcome gift. How is everything going back home?
Very Respectfully,
Rat Joseph Nieto
Please join us in wishing our favorite RAT, Joseph Nieto, lot's of luck this semester!