Working Americans often dream of the day when they can retire and wind it down after decades of punching a clock. But this is to be expected — who would not want to rid themselves of the daily rat race which probably includes getting up early dressing in uncomfortable clothes, and fighting traffic on the daily commute? But when the time finally comes, many seniors find that something unexpected occurs. They miss the sense of purpose and social interaction they received from working every day. For these people, and for seniors whose financial situation necessitates it, returning to work is a way to feel great and earn extra money on the side.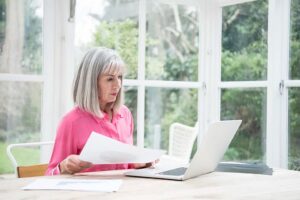 Many retirees have found it a positive experience to work from home. Working from home can alleviate numerous stressors of working life, including the grind of driving to and from work, and constant, daily interactions with gossiping coworkers. Below are a few types of work that retirees have found beneficial: 1. Customer Service Representative For this position, you should be reasonably tech-savvy. Generally, you need to own a relatively fast computer with a high-speed internet connection, a telephone, headset, and a separate working space where there will be no loud noises or disturbances that might be heard on the other end of the call. These types of positions are often utilized by well-known corporations such as Amazon and Hilton and pay between $9 and $15 per hour. 2. Virtual Assistant Taking phone calls, writing letters and crafting Microsoft Excel spreadsheets and Microsoft PowerPoint presentations are common tasks. You can offer your services as a VA through gig sites like Fiverr. 3. Business Coach Depending on your former career, you may be a great executive or business coach. Or you can even turn your life experiences into a career as a life coach. While working from home is a fantastic idea for seniors, you should be careful as there are many work-from-home scam listings on the internet. When it comes to finding work-from-home opportunities, common sense rules apply: make sure you never give out your bank account number, social security number, or pay for "training materials" up front. Beware of strictly commission-only positions. Using common sense should help you out greatly while looking for a work from home job, which will hopefully be a fulfilling and worthwhile endeavor. If you have questions about how contributing to your grandchildren's college tuition will affect your retirement plans, contact us to learn more. We specialize in educating and helping you protect what you have for the people you love the most.
Article contributed from the Elder Law & Life Care Planning Center's Newsletter. To subscribe to the newsletter please Click Here.