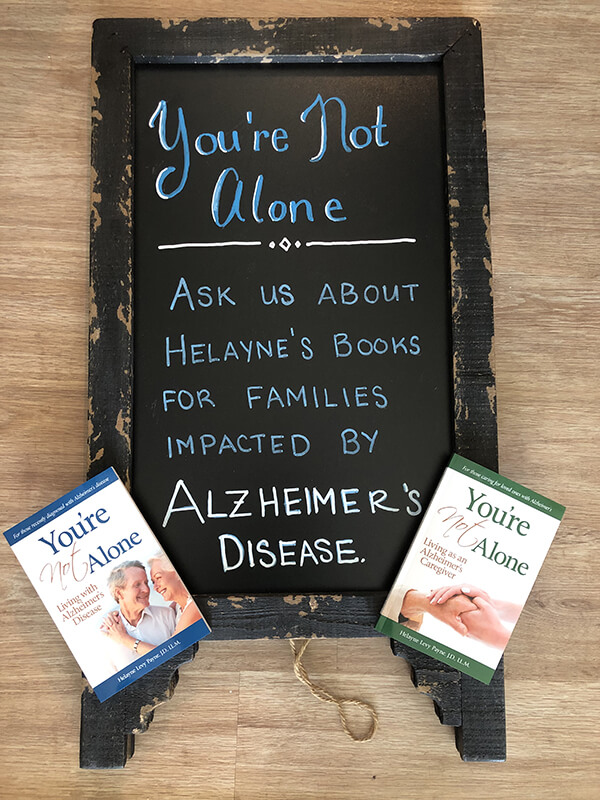 In 2019, millions of people will receive the shattering news of an Alzheimer's Disease diagnosis. New books, from a recognized local authority and elder law attorney, share critical information and guidance for people recently diagnosed with Alzheimer's Disease.
In her two just-released books, You're Not Alone: Living with Alzheimer's Disease and You're Not Alone: Living as an Alzheimer's Caregiver, author and local attorney, Helayne Levy Payne, taps into her years of experience and education helping people in south-eastern coastal North Carolina. Her goal is to share current and must-have information to guide those recently diagnosed with Alzheimer's Disease, and their caregivers, to cope, prepare and protect themselves. These short books are designed to be easy, quick reads and offer practical advice on exactly what one needs to do when faced with a diagnosis.
These timely and practical guides go beyond the general information available online and from healthcare organizations. These books show North Carolina residents:
Different options for care providers
How to protect themselves legally and financially
How to choose their decision-makers
How to plan for pets
How to deal with the stresses of caregiving
Answers to the most common questions regarding Alzheimer's Disease
"I've devoted my professional life to helping aging adults in our community and it pains me to see my neighbors hit with the life-shattering news of an Alzheimer's diagnosis and not know what to do next. Nobody is prepared for this type of news. Helping and guiding patients is what I do each and every day," says Helayne. "There is a lot of confusing information out there and I wanted to author a simple and easy-to-read guide that offers critical 'next step' information, which is why I wrote and compiled this book and the companion book for caregivers."
Helayne Levy Payne is the founder of the Elder Law and Life Care Planning Center, an elder care and special needs law firm offering quality representation to clients throughout North Carolina. With an advanced Master of Laws degree in Elder Law and years of experience as an attorney and counselor-at-law, she has championed causes through her participation in national, state and local organizations to further North Carolina's aging adult legislative and public policy interests. She has a 5-consecutive-year 10-out-of-10 "Superb" AVVO Rating, from an independent attorney-rating site called AVVO.
You're Not Alone: Living with Alzheimer's Disease and the companion book, You're Not Alone: Living as an Alzheimer's Caregiver are available, at no cost, from Helayne's office. Call (910)755-PLAN (7526), email ClientServices@APracticeWithPurpose.com, visit her website at www.APracticeWithPurpose.com, or make an appointment at our Wilmington or Shallotte location for your convenience.