Adapted from the June 2018 AARP Bulletin "What's Next. How Your Life Will Get Better in the Coming Years."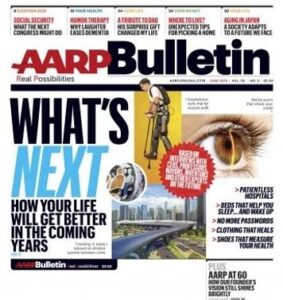 Over the last decade, we have already seen technological shifts. Not only can we stream TV shows to our phones – we basically have a miniature computer in the palm of our hands 24/7. We can order our groceries at a touch of a button to have them delivered directly to our doorstep. Not to mention electric and self-parking cars. We have already experienced incredible changes in our technologies – and there seems to be no sign of these changes slowing down.
HOME
There will be many upgrades to the home that will allow everyday life to become easier and flow more smoothly. According to Maxime Veron, the director of product strategy at Nest, our homes will guard themselves while we are away. Imagine a security system that is programmed to know when you leave for the day so that it will automatically disarm the alarm for your exit, re-engage for the remainder of the day and disarm again when it knows you will return. You will no longer wonder all day if you remembered to set the alarm or shut the garage.
If waking up and getting out of bed in the morning is a struggle, just wait until future technology provides. CEO of Sleep Number, Shelly Ibach, explains there will be a bed that will automatically adjust the position and room lighting as you settle in at the end of a long day – perfect for some reading before bed. This advancement will adjust your room and bed to reflect your ideal comfort, support, temperature, lighting and ambient noise and will use biometric data to know when to wake you. The bed will modulate factors that will help you awake feeling fully refreshed and alert, after a cycle of deep REM sleep of course.
There will be so many incredible upgrades throughout the home including, the ability to hyper-individualize a movie. The TV will put your face and body on the screen as the hero and all of your family members of the cast, according to Thomas Frey, founder of DaVinci Institute.
Your house may even have sensors in the floors, mirror and toilet enabled to detect changes in your physiology and give you a daily health assessment, according to the Director of AgeLab at MIT, Joe Coughlin.
We are already seeing these changes around the home; Amazon Alexa will play music, set a timer and answer questions all by using our voice. We have doorbells that show us exactly who is on the other side of the door, even while we are not home. Home security cameras allow us to check on our home or pets while we are away just by pulling up an app on our phone. Seeing what has already become possible makes these future improvements not seem so far-fetched.
HEALTH
Times have changed from how we once looked at medicine and healthcare and these changes will only continue allowing us to live a longer more comfortable life. Many drugs will be available for administration by microneedle patches rather than today's method of syringes. These patches will be painless and easily self-administered, they will also eliminate needle waste and will be stored and transported without refrigeration – according to Mark Prausnitz, a professor of chemical and biomolecular engineering at Georgia Tech.
This, for me, is the mind-blowing development: another medical advancement we will see in the future is the ability to create body parts from stem cells via printers. Patients may be able to use their own stem cells for 3D printing of patient-specific bone and cartilage implants! The progress includes the ability to create and print 3-D organs, again matched to our DNA, and thereby eliminating the complications of rejection by the body. This technology will allow doctors to create custom joints for treating osteoarthritis – according to the Dean of bioengineering at the University of Missouri, Elizabeth G. Loboa.
Stem cells will contribute to much of the future's medical technology, according to Nenad Bursac, co-director of the Regeneration Next Initiative at Duke University. A tissue patch therapy using contracting cardiac muscle cells could be in clinical trials as early as 2030. Animal studies utilizing these e patches have shown that cells delivered in a premed tissue patch help conduct electrical signals, contract, as well as secrete enzymes and growth factors aiding in the recovery of damaged tissue that has not yet died. Ultimately, this will help the heart to regenerate after a heart attack.
Be on the lookout for clothes that heal, in our future medical advancement. MIT is currently working on a textile application that will be able to detect a heart attack. This application will not only send out an emergency alert with the location but will also be capable of administering CPR to a patient. MIT is also developing shoes that will help diagnose patients by using sensors in the shoe to track body weight, heart rate, blood pressure, and activity, then send data and alerts to a caregiver. Andrew Carle, adjunct professor in the Department of Health Administration and Policy at George Mason University explained that companies are working to develop a suit that will help patients walk utilizing a combination of human muscle and 'electric muscle' to increase overall strength and functioning.
Future medical advancements will continue to teach us about brain function, medicine that will help regrow brain cells, a blood that test will screen you for Alzheimer's, and Artificial Intelligence that will monitor memory! Can you imagine?
We know that Alzheimer's symptoms present sometimes 15-20 years prior to a diagnosis. There are currently tests in research measuring protein levels associated with Alzheimer 's that will be able to test for early onset of the disease years before symptoms develop – according to Randall J. Bateman the Alzheimer's disease researcher and professor of neurology at Washington University in St. Louis.
The director of the Center for Geriatric Medicine at the Cleveland Clinic revealed how artificial intelligence will monitor memory. An upgrade from conventional paper tests, these tests will measure how long it takes for you to answer a question in real time, as a base-line. A year later patients can be retested giving the patients a clear picture of the level of memory loss over time.
TRANSPORTATION
The future of transportation has already begun developing with ride sharing, vehicles that park themselves and driverless vehicles. The advancement of bicycles will make traveling by bike much easier, providing momentum from the electric motor rather than man-/woman-power. Paul Demaio, the head of MetroBike explains urban bike sharing systems will now be stocked with electric-powered bicycles that will charge their batteries while the rider coasts. This technology will allow those users who would not normally commute by bike to enjoy the ride.
The future of development sees mixed-use development and more livable, all-encompassing downtowns which lessen the need for vehicles. Lessening the need for vehicles will aid in lessening the number of pedestrian deaths, which is generally reflected in larger percentages by our older population. , Bill De Blasio, the Mayor of New York City, my hometown, is executing a Vision Zero plan aimed at eliminating pedestrian deaths. Since the implementation of the plan, they have seen a reduction of 40% in pedestrian deaths.
PRIVACY
Privacy is changing, by 2025 it may be almost impossible to be a fully functioning member of society without sharing most details about yourself. Barry Glassner, author of The Culture of Fear: Why Americans Are Afraid of the Wrong Things, explains in the future we will have an eye scan that will be able to access a significant amount of information about an individual. The lens will use retinal identification to access our credit, marital and criminal records.
Due to the speed of technology, there will most certainly be an increase in surveillance by 2025. This is also due to the inability for laws to keep up with the speed of technological advancements.
If you have trouble remembering passwords for different websites, the future in password technology will be helpful. In the next 5 years, according to Frank Abagnale, an FBI consultant, we will completely do away with passwords. There is new technology from Trusona that can authenticate a person without the need for a password.
MONEY
The future of money will almost eliminate the need for a wallet. Years from now, computers will be able to recognize and authenticate an individual by scanning capillary patterns beneath the skin of the face and analyzing the voices. These computers will have the ability to utilize a person's face as a payment method, according to Amy Webb, futurist and business professor at New York University.
Taxes will be much easier to file explains Gary Stibel the founder and CEO of New England Consulting Group. Every piece of information needed to complete taxes will be available on the cloud. Taxes will be easily fileable with just a click of a button.
The future is now and it is already all around us. Remember those things that felt foreign years ago that are now part of our everyday lives- cell phones the size of our palm, the internet, 3-D printing!
What do you make of these advances? It's not as if we have a choice. Technology moves us forward, with the momentum and motivation of human-kind to CREATE. We'd love to hear your feedback! Feel free to share with us!