With the developments in healthcare over the last 50+ years, the life expectancy of the average American has increased to 79 years up from 70 years in 1965. This increase in life expectancy has opened a new window of time when seniors may need additional help or care, but not necessarily the constant attention of a retirement home.
Adult foster care homes are a little-known option that is becoming increasingly popular. These homes, also referred to as board and care homes, residential homes, and adult care homes, allow a wide range of assistance for seniors and disabled persons. Assistance provided in these homes can be medical; however, usually more basic help is provided, for example, grocery shopping, bathing, dressing and even simple human interaction.
Being knowledgeable of this option provides caregivers peace of mind if a health crisis should lead to the realization a loved one can no longer live adequately on their own. Many times families are faced with a sudden dilemma. They cannot move their loved one into their own homes, but institutional care is not yet necessary. Adult foster homes give more personalized assistance to individuals and are a less expensive option to traditional assisted living.
FEELS LIKE HOME
In some foster homes, residents will have their own rooms and share common areas and facilities such as kitchens, bathrooms or washing machines… Other homes provide self-contained quarters with onsite managers to assist if a resident requires aid.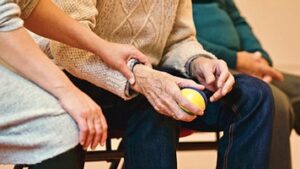 Residents maintain independence while living in adult foster homes, they have more opportunities to attend outside activities, for example, senior care programs, workshops, or a variety of enjoyable events… The socialization and camaraderie within these living situations lend a sense of fulfillment to a loved one's life. "[Adult foster homes] can be one of the best options for some people because it's a home-like setting. It's like a family, there's much more one-on-one," said Amy Goyer, AARP family and caregiving expert and author of Juggling Work, Life, and Caregiving.
These homes can also be ideal for seniors who are suffering from mental health issues, such as dementia or Alzheimer's Disease. These residents enjoy their own living areas and the independence to perform daily living tasks, while still having the necessary support provided by caretakers.
In another type of assistance, families will open their own homes to offer care and support to an adult in need. The family shares their home life with the resident and takes care of them as they would their own aging family member. This type of adult foster care can be suitable for seniors who do not need constant supervision but would like to feel part of a family.
These types of homes are well suited to more rural areas where limited population and/or funding cannot support large adult care facilities. These homes allow residents to thrive within their community by integrating into a family unit; as well as, building relationships outside the home.
A common misconception is that older people are sick and need a lot of medical care. In reality, this population is frailer than they are sick, and what is truly beneficial is a much more personal approach to long-term care. This type of care allows individuals to stay independent longer, but the government doesn't pay for this type of personal care.
COST
Though the cost of adult foster care varies from location to location, it is approximately half the cost of a typical nursing home and less expensive than assisted living. When comparing the cost of adult foster care to assisted living it is important you receive estimates for both costs of care and room and board. Assisted living facilities will often list these pricing components separately. A good rule of thumb is to do your research on all pricing options in your area to determine which is most beneficial to your specific situation and needs.
There are different options to consider when determining how to pay for adult care, for example, a "Home and Community Care" waiver blends private pay and Medicaid helping offset the cost of care in these homes. Fees vary by location, size, and amenities; however, adult foster care homes are a cost-effective alternative to typical nursing home facilities.
PROS
There are many pros to adult foster care. They allow an individual as much independence as possible and a more personal level of care without sacrificing quality or the safety of the resident. More personalized, one on one, care is especially beneficial to individuals who have evolving health conditions, such as diabetes or Alzheimer's Disease.
RESEARCH
It is imperative to research is done when considering the move into a new environment. There are no national guidelines or licensing monitoring adult foster care homes and certifications vary state by state. Each home is different, in their care and training alike, so it is very important to research all potential homes and speak with current residents, as potential abuse or neglect may be difficult to pinpoint.
The need for supportive, affordable, and community-based housing will continue to increase as the population of aging adults increases. Finding the right housing with the most supportive and appropriate environment for an individual is critical when aiding that individual to "Age Like You Mean It."℠