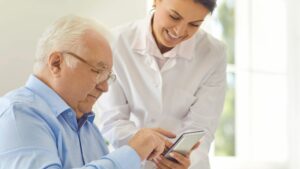 Over 1 million Veterans have downloaded the new VA: Health and Benefits mobile app that gives them fast, secure, and easy access to the benefits and health care they earned.  
The app was designed with the collaboration of Veterans to offer timely and convenient health and benefits information, including claims, appointments, and appeals status. It also gives Veterans and their families quick, direct access to the VA Crisis Line. 
While the app continues to evolve to meet the needs of Veterans, here are just a few of its capabilities:   
Check the status of claims and appeals 

Securely message members of their VA health care team 

Manage health care appointments 

Download critical VA documents and letters 

Find local VA facilities 

Access vaccine records 

Quickly reach the Veterans Crisis Line 
Since its implementation, Veterans have exchanged over one million secure messages with their healthcare providers and downloaded over 3.3 million documents. In addition, claims information has been accessed over 45 million times.   
Instead of having to contact or go to a VA office to file and check claims, Veterans can now access them through the app. The app also puts a Veteran's care and benefits at their fingertips. It makes it easier for them to access services whenever and wherever they want.  
We specialize in educating and helping you protect what you have for the people you love the most. Contact us to learn more about how we can help.