Aaron Goldman won Murray Middle School's Principal's Award. At age 2, he was diagnosed with a pervasive developmental disorder.
Aaron Goldman has never followed the crowd. Doing his own thing hasn't been easy, but it has paved the way to earning Murray Middle School's prestigious Principal's Award, as well as three other distinguished awards.
In spite of being diagnosed at age 2 with a pervasive developmental disorder, having some characteristics of autism, Aaron forged forward with determination. Intervention therapies and a special diet set him on his way to success.
"It has been an amazing journey," said his mother, Helayne Levy.
Aaron did not anticipate that he would receive the Principal's Award.
"It was a surprise for me. Normally the Principal's Award is always awarded to students in a lot of extra-curricular activities and kids who are always raising their hands, so I wasn't expecting to get anything like that," Aaron said.
Aaron was referred to as a "quiet leader" as the award was announced, according to Levy. He also won the Science award, the Social Studies award and the Spanish award at the eighth-grade graduation in June.
At just 13 years old, Aaron is younger than most of his fellow classmates entering high school next month, but he remained focused and has excelled. He was in the academically gifted program and on the A-honor roll.
As a Science Olympian, Aaron received second place for Meteorology and third place for Astronomy.
"He's really sensitive, and I thought he might have a hard time in middle school and he didn't. He didn't have a hard time at all," Levy said. "He helped everyone, he was a friend to everyone, and he was just a gentleman. He maintained his integrity through the whole middle school process."
Now Aaron is ready for the chance to shine at Ashley High School this fall, on his way to making his dreams come true.
"I am looking forward to new independence, new responsibility, and becoming more of your own person," Aaron said.
Becoming a criminal defense attorney is Aaron's future goal, hoping to work with his stepfather one day. He is interning in his office this summer, where he has learned important lessons already.
"I'd like to partner up with him," Aaron said. "You know what I've learned? Something may seem impossible, but when you break it down and do it, you see that it's doable!"
Aaron delights his parents. They're proud that he still hugs his parents at a time when many of his peers have abandoned the practice.
"He has continued to amaze us, bless us, with who he is. But it's a whole other joy to see that others recognize how special he is," Levy said.
Being himself is important to Aaron, who encourages others to stay true to who they are.
"I do what I normally do and people like it," Aaron said. "Embrace your differences. It's cliché to say, but don't try to be like anyone and you're most likely to stand out. Be proud of whatever quirks you have, whatever you are interested in, and you'll get more friends."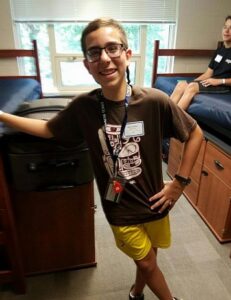 "I do what I normally do and people like it," Aaron said. "Embrace your differences. It's cliché to say, but don't try to be like anyone and you're most likely to stand out. Be proud of whatever quirks you have, whatever you are interested in, and you'll get more friends."