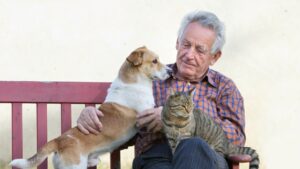 Did you consider or even know that your pets can be included in your estate plan?  
Don't leave your pet's care to chance or up for grabs after your death. 
Instead, include your pet in your planning and make arrangements with a trusted person, so everyone has peace of mind.
Your beloved pets can be provided for in your estate planning documents. 
Whether you choose a Last Will and Testament or a Trust Agreement, you can make accommodations for your pets with advanced planning. 
You can nominate a trusted person to care for your pets and even devise funds to provide for the ongoing care and maintenance of your pets.   
If you have pets and want to make them part of your planning so that there is no ceasing of their care in a crisis, make an appointment with an experienced attorney.
Let them know you want to include your pets in your estate planning.   
We specialize in educating and helping you protect what you have for the people you love the most. Contact us to learn more about how we can help.