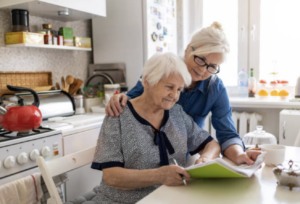 Discussing finances is never easy. However, addressing your aging parents' financials may become necessary at some point in time.
It is much better to open this dialogue and start this conversation before you or your parents are in an emergent situation.
Simply starting the conversation early can save you a lot of stress down the road. If the conversation feels difficult to begin, here are a few tips to help you get started
1. Use a respectful tone – It is important to be sensitive and understand the delicate nature of their financial status and needs.
2. Organize their financial documents – Make a list of where all the important documents are located. This may include attorney's offices, financial planners' offices, safety deposit boxes, or at home. Be sure to identify the location of all of their financial documents.
3. Make a list of assets and expenses – It is essential to have a clear picture of your parents' financial situation, including all assets and expenses.
4. Meet with an Estate Planning Attorney – Ensure that your parents have all their advance directives completed and up to date. A properly executed estate plan will save you a lot of headaches down the road and will ensure there is no delay in getting the proper treatment for your loved ones in the event of an emergency.
5. Meet with a Financial Planner – Often, your estate planning attorney and your financial planner can work hand in hand to ensure that your assets are protected.
6. Keep communication open and ongoing – Staying up to date and on top of any changes in their finances will benefit you in the long run.
While some may dread having these types of conversations with their aging parents, or loved ones, you must do it before an emergency happens. Having the conversation early will ensure that you and your loved ones are prepared and protected in advance of an emergency.
We specialize in educating and helping you protect what you have for the people you love the most.
Contact us to learn more about how we can help you and your family.